Facing east, the bay is protected from both the strong north and south winds. It is the perfect place for our courses or a relaxing dive. From the beach you can reach a maximum depth of 14 m. Usually, you can see scorpion fish, octopus, nudibranchs, moray eels and occasionally rays.
Travel time: about 35 minutes.
The Boreas has been submerged outside the port of Palamós since 1989. The cabin lies at a depth of 18 metres and the propeller at 32 metres. The Boreas is an old tug boat from the Second World War and its original name was "Pellworm". After the war the boast was lost only to be found in the early 1980s in the northern part of the Costa Brava, transporting illegal goods. The boat was then seized and left stranded in the port of Palamós until it was sunk as a wreck.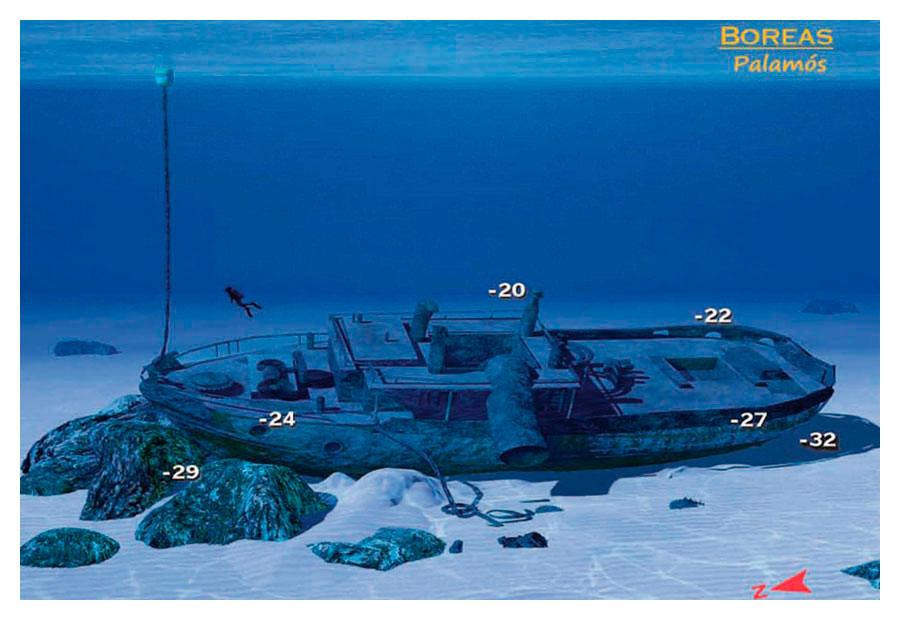 Travel time: about 10 minutes.
The first reef of Calella ("Ullastre de afuera"), conical in shape, begins at a depth of 6 metres and descends to a depth of 50 metres. The north face has a steep slope and is covered with gorgonians, while the south face descends gently and is full of crevices. Between 25 and 40 metres there is a boulder field on the north side of the reef. It is not uncommon to spot conger eels, groupers and even lobsters here.