Book your activity – Give an experience
Welcome to Poseidon! Our company was founded in 1969, becoming one of the first diving centres on the Costa Brava at that time. We are backed by more than 50 years of experience in the world of scuba diving, which means we know all the dive sites in the area like the back of our hands and we always offer our customers a close and personalised service. We are a family business, dedicated to the mission of doing what we like the most, and we believe that this has always been the key to our quality and success.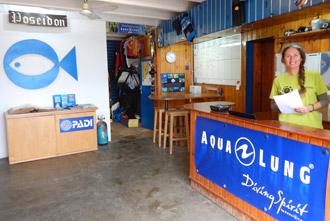 Office
Office
The office includes a large reception area, where clients can find out all about the scuba diving offers, book their places or just browse the dive shop.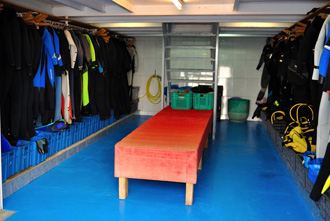 Changing room
Changing room
The changing room has space for 50 people. Our divers are welcome to store their equipment there or take a rest. Hot water showers are available,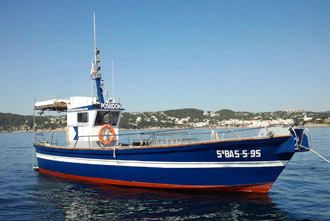 Boat
Boat
Our diving centre has an 11-metre long boat, which was built especially for scuba diving activities. Our boat departs several times a day, right from the beach to the numerous dive sites, and has 22 comfortable seats.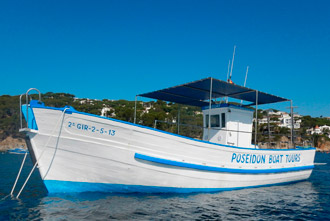 Snorkelling Boat
Snorkelling Boat
The Paraguay is the boat that we use for our snorkelling trips. It is a wooden boat originally built for fishing. It has been adapted to provide comfort for 28 guests on private trips and outings.
ACTIVELY DISCOVER THE COSTA BRAVA
Susanna Reigada Sanz
30. Octubre, 2021.
Un equip excel·lent. Més de 20 anys després de la meva última immersió hi vaig tornar amb vosaltres. L'estiu vinent ens veurem més sovint 🙂
Marc SP
14. Octubre, 2021.
Muy contento con la atención recibida,buen ambiente, muy contento, volveré más veces.Me he mareado a causa del oleaje y me han ayudado en todo lo que han podido para que me sintiera mucho mejor, gracias por todo. Un cordial saludo!
Clara
14. Septiembre, 2021.
Best diving instructors ever! Everyone is super nice there's a very good vibe, you can tell they're all passionate about diving. I just did my Padi OWD and loved every bit of it. Would highly recommend!
Paul Mehta
14. Septiembre, 2021.
Great dive centre, both myself and my partner have spent the past few days on courses and diving with Poseidon and can't recommend them enough. Some of the best diving staff I have ever come across and the centre is in an absolute idyllic place, in a beautiful cove of Calella de Palafrugell. I would personally like to thank Pecu & Laura for their patience with me, also Angels for taking care of my partner and showing her lots and lots of moray eels and nudibranch amongst many other things whilst she was doing her Open Water certificate and Carlo (NOT Carlos!) for being our guide on our last dive of the holiday. Thanks to everybody else too and we will definitely be back.
Tina Qualitz
8. Septiembre, 2021.
Mein Mann und ich haben hier im August 2021 sehr schöne Tauchgänge vom Boot aus erlebt. Wir hatten auch Tauchgänge vom Strand, was ich als Einstieg nach einer langen Tauchpause gut fand. Das gesamte Personal war sehr freundlich. Leider waren der Strand und die Gaststätten im Ort sehr voll, da wir während der Hauptsaison Urlaub hatten. Die Tauchbasis hat keine eigenen Bereiche, wo man zwischen den Tauchgängen verweilen und pausieren könnte. Wir konnten aber zumindest das Tauchequipment dort lassen. Sicher ist das Tauererlebnis in der Vor - und Nachsaison viel entspannter.
Violeta Emporda
5. Septiembre, 2021.
Una experiencia genial!
cristina crespo querol
3. Septiembre, 2021.
Muy buenos profesionales