Welcome to Poseidon! Our company was founded in 1969, becoming one of the first diving centres on the Costa Brava at that time. We are backed by more than 50 years of experience in the world of scuba diving, which means we know all the dive sites in the area like the back of our hands and we always offer our customers a close and personalised service. We are a family business, dedicated to the mission of doing what we like the most, and we believe that this has always been the key to our quality and success.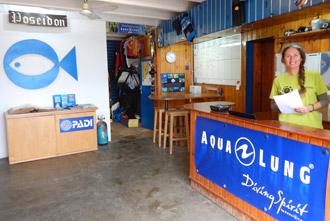 Office
Office
The office includes a large reception area, where clients can find out all about the scuba diving offers, book their places or just browse the dive shop.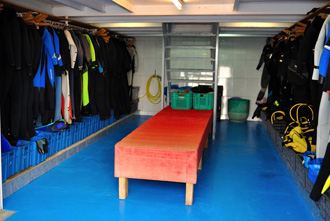 Changing room
Changing room
The changing room has space for 50 people. Our divers are welcome to store their equipment there or take a rest. Hot water showers are available,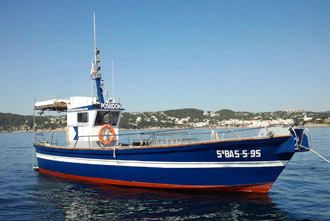 Boat
Boat
Our diving centre has an 11-metre long boat, which was built especially for scuba diving activities. Our boat departs several times a day, right from the beach to the numerous dive sites, and has 22 comfortable seats.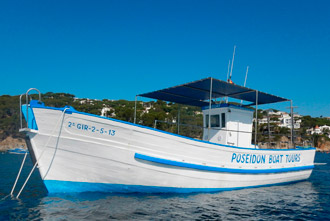 Snorkelling Boat
Snorkelling Boat
The Paraguay is the boat that we use for our snorkelling trips. It is a wooden boat originally built for fishing. It has been adapted to provide comfort for 28 guests on private trips and outings.
ACTIVELY DISCOVER THE COSTA BRAVA
Vicente Nebot
31. Mayo, 2021.
El mejor lugar para bucear y hacer más actividades acuáticas de la costa brava.
Emi VanTips
31. Mayo, 2021.
La escuela de Poseidon es un placer, porque está Justo en la playa, está muy bien organizado todo, los equipos nuevos, y las salidas en barcos son geniales porque los puntos de inmersión son bellos, llenos de vida, la mejor zona del Mediterráneo SEGURO! La gente de la escuela súper atenta y muy amable. Nos la pasamos súper bien, incluso el buceo en la playa fue genial! 100 x100 recomendado! Volveremos segurísimo!
Laura Amat
20. Mayo, 2021.
El mejor centro de buceo de Calella, súper recomendable!!! Repetiremos seguro.
Roger Aranès
13. Mayo, 2021.
Fa un temps vaig fer una petita inmersió per la platja, ho van explicar superbé tot, i em vaig quedar amb tantes ganes de més que vaig decidir fer el curset i treure'm el titol més bàsic per a fer submarinisme, tot super bé, podies fer el curs online, amb apartats molt clars i a sobre s'adapten molt bé als teus horaris i als dies que puguis fer les diferentes pràctiques. Sempre que vulguis et pots posar en contacte amb ells i et responen en molt poc temps i molt clarament. Ofereixen moltissims llocs per a fer inmersions, diversos tipus d'inmersions i amb un tracte molt amigable i proper.
Ik kom hier al jaren en het blijft een top plek. Mooie duikstekken en een superleuk team! Goede faciliteiten, mooi strand. Wat wil je nog meer?
Ronan Heuclin
12. Mayo, 2021.
Equipe très accueillante et pro. Matériel en bon état. Sites de plongées sympa et quelques uns sont exceptionnels
Miguel Angel Martinez
11. Mayo, 2021.
Trato exquisito, guias preparadisimos y esta en primera linea de mar.Sin lugar a dudas un sitio altamente recomendable
Eléonore Laverdin
11. Mayo, 2021.
Super team, super dives ! I keep coming Back every year With friends. A good spot to pass diving levels : my son had his open water and I had my advanced padi there !

Excelentes profesionales Hicimos un bautizo de buceo. Nos explicaron todo con mucho detalle, transmitiendo mucha tranquilidad en todo momento, algo muy importante. La reserva fue fácil, las organización muy buena. Grandes profesionales!

Vicente N
31. Mayo, 2021.
Lo mejor de la costa brava Excelente lugar para bucear, con un barco muy cómodo y todo muy cerquita. También hicimos un día de snorkel con otro barquito que tienen y lo pasamos muy bien. Pudimos hacer más actividades como Padel surf. Muy buena atención, volveremos seguro!!
Excelente escuela! La escuela está Justo al pie de la playa, las zonas de buceo son increíbles! Hay mucha vida y son muy bonitos. La gente es muy amable y la instructora Muy atenta! La verdad que estuvimos muy a gusto, volveremos segurísimo! TOTALMENTE RECOMENDADO Gracias Poseidon y hasta la próxima
Roger Aranès
13. Mayo, 2021.
Me quedé con tantas ganas de más que me saqué el título Hace un tiempo hice una pequeña inmersión en la playa, lo explicaron súper bien todo, y me quedé con tantas ganas de más que decidí hacer el cursillo y sacarme el título más básico para hacer submarinismo, todo super bien, podías hacer el curso online, con apartados muy claros y encima se adaptan muy bien a tus horarios y los días que puedas hacer las diferentes prácticas. Siempre que quieras puedes ponerte en contacto con ellos y te responden en muy poco tiempo y muy claramente. Ofrecen muchísimos lugares para hacer inmersiones, varios tipos de inmersiones y con un trato muy amigable y cercano.
Perfecte duik Ik kom hier al jaren en het blijft een top plek. Mooie duikstekken en een superleuk team! Goede faciliteiten, mooi strand. Wat wil je nog meer?

Hartmut E
11. Mayo, 2021.
Einer der besten Plätze am Mittelmeer Warum komme ich regelmäßig an diesen Platz?! Die Basis ist sehr gut organisiert, alle sind sehr freundlich und de Abläufe sind gut strukturiert. Aber das Wichtigste: Superschöne Riffe mit kurzen Fahrtzeiten. Steilwände voller Gorgonien bis 12m Tiefe, einfach genial.

Super club de plongée !!! J'ai été formé dans ce club de plongée et j'y ai passé mon OWD et mon AOWD. L'équipe est super ainsi que les équipement. Les lieux de plongée sont magnifiques et variés. Je recommande !!!

Ronald Erlenbach
9. Mayo, 2021.
Tauchurlaub Wir fahren schon seit den frühen 1990 Jahren nach Calella zum Tauchen. Früher ohne mittlerweile mit erwachsenen Kindern. Das tauchen ist einfach klasse hier und die ganze Mannschaft der Tauchbasis super nett, hilfsbereit und immer freundlich. Das Tauchboot;Poseidon sehr gut ausgestattet und einfach über eine Bugleiter zu besteigen. Die Ausfahrten sind meist sehr kurzweilig und die Küste der Costa Brava bei jeder Ausfahrt immer wieder toll zu sehen und zu entdecken. Die Tauchbasis bietet alles zum aufbewahren der eigenen Ausrüstung oder auch der Leihausrüstung. Das besondere ist der kurze Weg von der Basis zum Boot, geschätzte 30 m und es kann losgehen. Als weiteren Mehrwert ist das kleine Restaurant direkt neben der Basis, ideal für einen Kaffee im Anschluss oder eine Erfrischung nach dem tauchen. Appartement und Hotel in fussläufiger Entfernung mit tollem Blick über die Küste. Alles in allem einfach super. Nur zu empfehlen.
Des plongées en toutes quiétudes dans un cadre magnifique..... Déjà plusieurs années que je plonge dans ce club. L'accueil y est très chaleureux et l'encadrement très professionnel. Tarifs très correcte et équipements ressentis. Les différents sites de plongée sont magnifiques avec une faune et une flore préservées. Chaque plongée est bien expliquée et le briefing sur le bateau est rassurant car chaque moniteur parle plusieurs langues. Plongée parfa