Welcome to Poseidon! Our company was founded in 1969, becoming one of the first diving centres on the Costa Brava at that time. We are backed by more than 50 years of experience in the world of scuba diving, which means we know all the dive sites in the area like the back of our hands and we always offer our customers a close and personalised service. We are a family business, dedicated to the mission of doing what we like the most, and we believe that this has always been the key to our quality and success.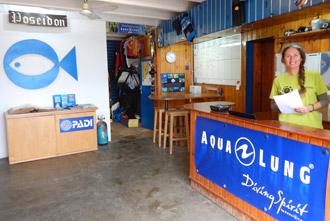 Office
Office
The office includes a large reception area, where clients can find out all about the scuba diving offers, book their places or just browse the dive shop.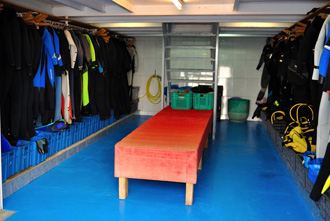 Changing room
Changing room
The changing room has space for 50 people. Our divers are welcome to store their equipment there or take a rest. Hot water showers are available,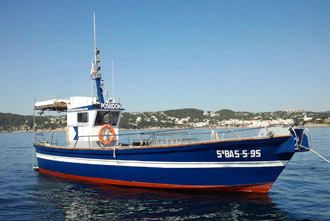 Boat
Boat
Our diving centre has an 11-metre long boat, which was built especially for scuba diving activities. Our boat departs several times a day, right from the beach to the numerous dive sites, and has 22 comfortable seats.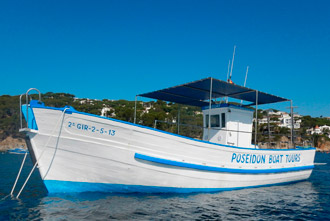 Snorkelling Boat
Snorkelling Boat
The Paraguay is the boat that we use for our snorkelling trips. It is a wooden boat originally built for fishing. It has been adapted to provide comfort for 28 guests on private trips and outings.
ACTIVELY DISCOVER THE COSTA BRAVA
David Diéguez
3. Julio, 2021.
Trato inmejorable y profesional por parte de todos los monitores, hicimos una inmersión de playa para recordar conceptos y luego dos inmersiónes de barco. En todo momento muy bien organizados y los guías fueron todos muy amables y con una buena didáctica. Volveremos a hacer inmersiones con ellos sin duda!
Inmejorables desde el principio!! Hemos hecho dos inmeresiones, una desde playa para recordar los conceptos y otra desde barco para bajar un riff, ambas con Emilia de guía, nos hemos sentido como peces en el agua. gracias por todo!!!
Zenaida Aguilar
20. Junio, 2021.
Ha sido una experiencia maravillosa hacer el bautizo en Posiedon. Me anticipé a lo que podía ser la inmersión y me asustaba, pero la verdad que me lo hicieron muy muy fácil y me sentí muy bien con ellxs. ¡Repetiré!!!
Carolina Palicio
20. Junio, 2021.
Excelente experiencia, a pesar de que el mar no estaba del todo tranquilo, nos guiaron con mucha calma y mucha profesionalidad, gracias Pecu y Carlos!
Mireia Tomàs
18. Junio, 2021.
Muy buena inmersión! Repetimos seguro 🙂
Tauchclub Bonn
16. Junio, 2021.
Seit bestehen des TSC-Bonn besuchen wir jedes Jahr mit unseren Tauchern Poseidon Calella. Die Basis direkt am Strand verbunden mit einem top Service und einem der schönsten Tauchgebiete des westlichen Mittelmeers lässt keine Wünsche offen. Hinzu kommt der wunderschöne malerische Ort der auch für Nichttaucher alles bietet was einen tollen Urlaub aus macht. Aber am beste ist…. Hinfahren und sich selbst überzeugen!!!
Thibaut Hgn
15. Junio, 2021.
Une équipe ultra chaleureuse et pro, et un centre idéalement placé dans un petit village superbe. Multiples sites de plongée tous différents et attirants. Ne pas hésiter une seconde, cours Open Water passés dans des conditions parfaites ! Coup de coeur !
Vicente Nebot
31. Mayo, 2021.
El mejor lugar para bucear y hacer más actividades acuáticas de la costa brava.