Welcome to Poseidon! Our company was founded in 1969, becoming one of the first diving centres on the Costa Brava at that time. We are backed by more than 50 years of experience in the world of scuba diving, which means we know all the dive sites in the area like the back of our hands and we always offer our customers a close and personalised service. We are a family business, dedicated to the mission of doing what we like the most, and we believe that this has always been the key to our quality and success.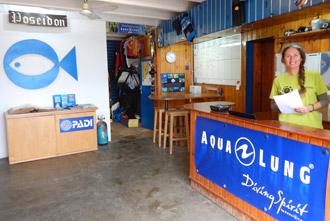 Office
Office
The office includes a large reception area, where clients can find out all about the scuba diving offers, book their places or just browse the dive shop.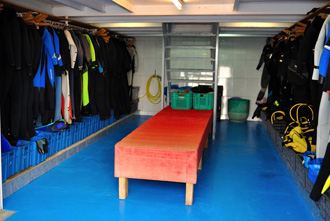 Changing room
Changing room
The changing room has space for 50 people. Our divers are welcome to store their equipment there or take a rest. Hot water showers are available,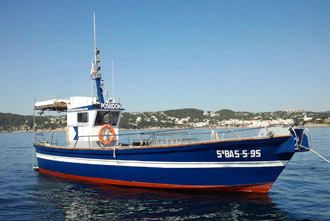 Boat
Boat
Our diving centre has an 11-metre long boat, which was built especially for scuba diving activities. Our boat departs several times a day, right from the beach to the numerous dive sites, and has 22 comfortable seats.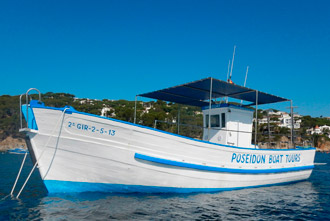 Snorkelling Boat
Snorkelling Boat
The Paraguay is the boat that we use for our snorkelling trips. It is a wooden boat originally built for fishing. It has been adapted to provide comfort for 28 guests on private trips and outings.
ACTIVELY DISCOVER THE COSTA BRAVA
Dica Mo
22. Agosto, 2021.
Maravillosa experiencia con Poseidon Diving. Lugar de costa brava excepcional. Fuimos en agosto y habia mucha gente pero la acogido fue muy agradable. Hicimos el check porque no buceábamos desde 2015 y nos acompañó Andrea, una excelente profesional, muy amable que nos tranquilidad en todo momento y nos hizo disfrutar de la experiencia bajo el mar en todo momento! Para repetir
Pol Riera Mas
21. Agosto, 2021.
Fantastica experiencia, equipo muy profesional, mucha dedidacion y atenciones y muy amables. El curso ha sido increible y perfecto, 100% recomendable
marc rodriguez casals
21. Agosto, 2021.
Excelents professionals, he fet el curs Open Water i estic encantat. Un plaer fer una activitat aixi amb gent molt competent, sempre amb un somriure! Gràcies Pecu, Andrea i Angels!! Repetirem sortides segur 🙂
Jordi Martí
21. Agosto, 2021.
un gran equipo de profesionales que te hacen sentir como en familia.Eso no quita la profesionalidad, no tenia bien asimilado un tema de vital impotancia en el buceo e insistieron adaptando el programa de certificación del ADVANCE hasta que mejoré en ese punto. Ahora buceo con confianza y disfruto mas de casa inmersión, gracias a todo el equipo que hace que haya dado un gran paso adelante.
Shi Feng
19. Agosto, 2021.
Todo fantástico!!!! muy amable y profesional, la experiencia súper agradable!100% recomendado!!! Tendré muy bonitos recuerdos a la gente que conocí allí! Everything is fantastic!!!! They are very kind, caring and professional and the diving experiences are so exciting! It has been very lovely and I will always keep the beautiful memories to the people I met there!!!
Maarten Van Hoey
16. Agosto, 2021.
Zeer leuke plaats om te duiken en dit onder begeleiding van een professioneel team ervaren duikers!
lisan visser
15. Agosto, 2021.
Een hele gave ervaring! Zeer goede instructies en prettige begeleiding. Ook voor degenen zonder ervaring heel goed te doen, mede door de rustige uitleg. Zeker een aanrader en hopelijk volgend jaar weer opnieuw!
Javier Mira
15. Agosto, 2021.
Es un verdadero placer bucear con ellos todos los años. Profesionales, simpáticos y atentos te hacen sentir como en casa, con una confianza en ti mismo que hace que progreses a pasos agigantados. Les avala una dilatada experiencia en un entorno mágico. Este año se ha unido la peque de la familia al mundo submarino y hemos tenido una confianza en ellos como si fueran de nuestra propia familia. Volveremos siempre y, para los que no lo conoceis, acercaros sin dudarlo, viviréis una experiencia única con ellos...
Sergi Rodriguez
13. Agosto, 2021.
Personal molt agradable, sempre disposat a ajudar-te i guiar-te amb el que necessites. Gran varietat d'activitats per provar de tot.
Agustín García
12. Agosto, 2021.
We really value its service and professionalism. The equipment was optimum. The environment is incredible, however, Emilia makes it even better.! You won't have felt more secured and well treated in any other immersion. Highly recommended. In fact we will come back for sure!